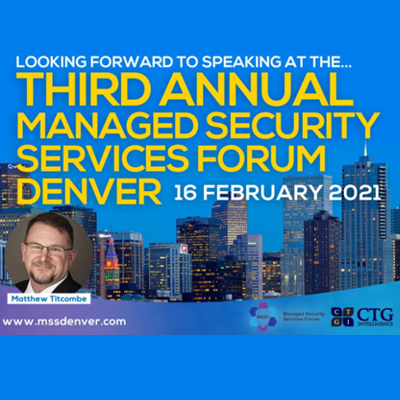 Surging interest by DoD contractors and other government contractors makes CMMC the latest hot topic
Boulder, CO (February 4, 2021) – – Gigit, Inc. (https://gigitsecurity.com), a cybersecurity firm that ensures cybersecurity compliance and reduces cybersecurity risk through its testing, assessment, and consulting services, today announced the appearance of its new Chief Information Security Officer, Matthew Titcombe, at two upcoming virtual industry events. Titcombe will be speaking on the CMMC C3PAO Panel, Preparing for Assessment Q&A, as part of a Cloud Security & Compliance Series on Thursday, February 4, 2021 hosted by Summit7 Systems, information about which can be found at https://info.summit7systems.com/cs2-virtual-3. Later in the month on February 16, 2021, Titcombe will be presenting on the topic of The Future Impact of CMMC & NIST SP 800-171 at the Third Annual Managed Security Services Forum Denver virtual conference, information about which can be found on the event's website: https://denver.mssconference.com.
"The topic of CMMC is blowing up right now," said CISO Titcombe, CMMC Provisional Assessor #17 and a member of the CMMC Industry Standards Working Group. "Every federal contractor doing business with the Department of Defense needs to get on board with CMMC or risk losing their contracts. But CMMC is a monster process, so everyone's eager to understand it all and fast."
To learn more about Gigit and its array cybersecurity services serving multiple industry sectors, visit its website at www.gigitesecurity.com.
About Gigit
Gigit, Inc. (https://gigitsecurity.com) has been providing cybersecurity services for over 10 years, long enough to witness the exponential growth in the most egregious corporate cybercrimes.  With more threats created by remote and globally distributed workforces, Gigit helps businesses and federal contractors identify and remediate cybersecurity vulnerabilities. Its team of expert, highly certified professionals (CISSP; OSCE; OSCP; CEH; GXPN)​, with over 100 combined years of cybersecurity experience among them, lead M&A Security Assessments, Pentesting, Industry, Government, and Data Privacy Compliance initiatives and consulting/advisory services. We work directly with CEOs, CISOs, CFOs, CIOs as well as investment banks, insurance companies, VCs, and M&A attorneys to help protect cybersecurity systems and identify breaches that may impact acquisition deals and the ability of companies to do business with government agencies. Among the beneficiaries of Gigit's services are brands like Uber, Amazon, Walmart, Kohl's, Equinix, and Interim Healthcare.