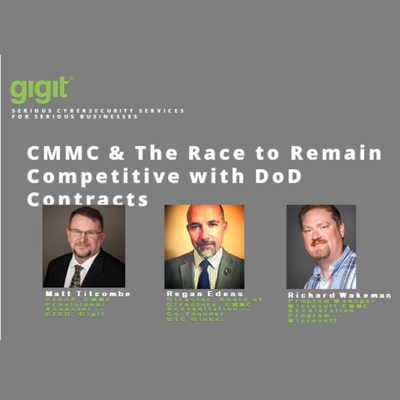 Gigit Hosts Live March Panel Discussion, "CMMC & The Race to Remain Competitive with DoD Contracts"
Boulder, CO (March 5, 2021) – Gigit, Inc. (https://gigitsecurity.com), a cybersecurity firm with supply chain expertise that ensures compliance and reduces cybersecurity risk through its testing, assessment, and consulting services, today announced it will be hosting a live "Lunch and Learn" panel discussion entitled, "CMMC & The Race to Remain Competitive with DoD Contracts" on Wednesday, March 17th, 2021 from 11:30am – 12:15pm. All three panelists are renowned subject matter experts in the emerging CMMC field: Host Matthew Titcombe, CISSP, CMMC Provisional Assessor #17 Lvl 1-3, a team member on the CMMC Industry Standards Working Group that drafted the initial and supported subsequent reviews of the DoD published CMMC Assessment Guides, and the CISO of Gigit; Regan Edens, Director, Board of Directors, CMMC Accreditation Body; CMMC Certified Master Instructor, and Co-Founder of DTC Global; and Richard Wakeman, Program Manager, Microsoft CMMC Acceleration Program leading the Defense Industrial Base adopting cloud services from Microsoft. The discussion, developed for an audience of business leaders, business strategists, and procurement, supply chain, and GRC officials, will answer crucial questions such as, What CMMC means for companies that support the defense industrial base; How a company that wants to become CMMC compliant, regardless of its size, should start this journey; and, What are the two biggest pitfalls organizations most often fall into when attempting to become CMMC compliant? The event is free to attend. Register here.
"The entire supply chain fueling the Defense Industrial Base will feel the impact of CMMC eventually, and these businesses need to prepare now for the inevitable," said David Jacobs, Gigit CEO. "Becoming CMMC compliant will be the key to remaining competitive with federal government contracts."
 To learn more about Gigit and its array cybersecurity services, visit its website at www.gigitesecurity.com.
# # #
About Gigit
Gigit, Inc. (https://gigitsecurity.com) has been providing cybersecurity services for over 10 years, long enough to witness the exponential growth in the most egregious corporate cybercrimes.  With more threats created by remote and globally distributed workforces, Gigit helps businesses and federal contractors identify and remediate cybersecurity vulnerabilities. Its team of expert, highly certified professionals (CISSP; OSCE; OSCP; CEH; GXPN)​, with over 100 combined years of cybersecurity experience among them, lead M&A Security Assessments, Pentesting, Industry, Government, and Data Privacy Compliance initiatives and consulting/advisory services. We work directly with CEOs, CISOs, CFOs, CIOs as well as investment banks, insurance companies, VCs, and M&A attorneys to help protect cybersecurity systems and identify breaches that may impact acquisition deals and the ability of companies to do business with government agencies. Among the beneficiaries of Gigit's services are brands like Uber, Amazon, Walmart, Kohl's, Equinix, and Interim Healthcare.